Image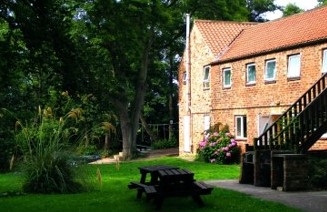 The Stables is a self-contained, two-storey accommodation block ideally suited for 36 guest.
Ground floor accommodation includes a large lounge and separate dining room, as well as an accessible shower, toilets and sleeping accommodation. The three downstairs bedrooms include basins and are wheelchair accessable with suitable toliets and showers available.
The first floor features further bedrooms and male / female toilet and shower facilities.
This building also has a stair lift for access to the first floor.
Classroom space on site and presentation / teaching materials can be booked in addition to this accommodation, please contact our Bookings Team to discuss your needs.
| Room | Capacity/Format |
| --- | --- |
| 1 | 2 (2 x singles) |
| 2 | 2 (2 x singles) |
| 3  | 2 (2 x singles) |
| 4  | 4 (2 x bunks) |
| 5 | 2 (2 x singles) |
| 6   | 6 (3 x bunk) |
| 7 | 5 (1 x single, 2 x bunks) |
| 8  | 2 (2 x singles) |
| 9 | 6 (3 x bunks) |
| 10  | 2 (1 x bunk) |
| 11 | 8 (4 x bunks) |
| TOTAL | 41 max, ideally 36 |