Image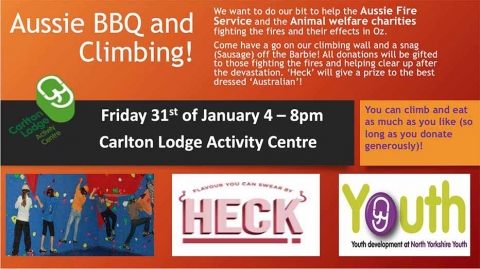 Carlton Lodge Activity Centre is holding a fundraising event to raise money for the Bush Fire crisis in Australia. We are opening up our Climbing Wall and cooking up a barbeque all for free! All we ask is that anyone wanting a climb or a sausage puts some cash in the 'Donation Buckets' that we'll provide. You can climb as much as you like and, indeed, eat as much as you like, as long as all that spare change goes 'Down Under'.
Our instructors and cooks will be on stand-by to make sure everything is both safe and tasty. Carlton Lodge is providing all instruction and catering at no cost; everything we take on the night will be sent to  - NSW Rural Fire Service and a number of wildlife charities.
Heck Food is providing all the sausages for free because they are the best!
Please come along and bring your family, friends and all the cash you can muster! Heck will be giving a prize to the person with the finest Aussie outfit – so bring your corked hat!
George Plant
Head of Centre