Image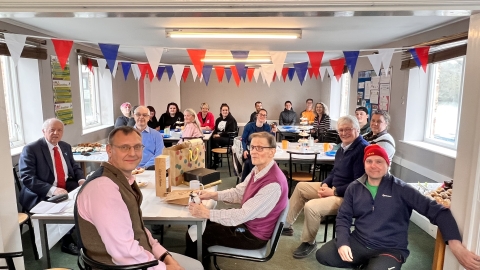 A celebration for Mark Faulkner was held on 13th April 2022, to mark his 13 years with North Yorkshire Youth at Carlton Lodge Activity Centre. It was also Mark's Birthday and trustees, friends and colleagues joined Mark to celebrate.
David Sharp, chief executive shared his thoughts about first meeting Mark in 2008 when he became the new Head of Centre.  Mark joined following a highly successful army career where he achieved the rank of Colonel. David mused that his only concern was that having a retired colonel reminded him of Agatha Christie and some horrible murder!
Mark spent 11 years as head of centre and had a huge impact right from the start. Judith remembered the first job Mark did was very interesting as apparently, a young person blocked a toilet, then covered it with clingfilm before placing a ham sandwich on the clingfilm. Mark donned his gloves and just got stuck in.
Mark's view of life and the way in which he conducted himself fundamentally changed the way in which Carlton Lodge approached its customers. More flexible, approachable and people-focused. Nothing was too much for Mark, he was always in early, always stayed late and was regularly out and about chatting to customers and the young people.
Mark made a big impact on the staff and his seven questions system which provides the basis for solving complex problems always came in handy, David's favourite being "No plan survives contact with the enemy!"
David explained that Mark's methods and perspectives helped him personally and taught him that if the destination is the most important part, the journey there doesn't matter.
Mark is incredibly resilient, and this trait emerged clearly when ill health prevailed, but this didn't prevent him from taking on the new challenge of Development Manager where he helped to set the foundation for the redevelopment of the Centre, helping to secure planning permission, initial funding and without his good work the replacement bunkhouse would not have been possible. The global pandemic put much of this work on hold and Mark also suffered further health issues in 2021 when he suffered a stroke which affected his mobility. On this occasion, the enemy has advanced a little too closely and unfortunately, Mark's premature retirement ended his long-standing 13-year career at Carlton Lodge in October 2021.
David expressed his privilege and honour of having worked with Mark and thanked Mark for all he has done. David had asked colleagues for one word each to describe Mark and they had said:
Loyal, upstanding, honest, resilient, reliable, wonderful, character, chivalrous, interesting, accurate, funny, tough, committed, generous, staunch…
A collection for Mark's retirement produced a range of gifts including a bottle of Graham's port, Thornton's chocolates, Fox's chocolate biscuits, pair of Pavers slippers, bars of Cadbury Dairy Milk and a Gold Sekonda Pocket Watch.
In his inimitable understated style, Mark thanked colleagues for their generosity, David for his kind words and said that his time at Carlton Lodge has been rewarding and satisfying and that he would NOT be sharing his biscuits…